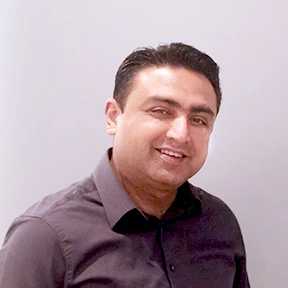 In 2003, Dr. Vijayant Kapur graduated with his Bachelor of Dental Surgery from the Baba Farid University of Health Science where he then began managing his own dental clinic from the very start. After running a successful dental practice in India, he decided to continue his dental journey in Canada and moved to Ottawa, ON.
"Do what you love and love what you do…" – This is what defines Dr. Kapur. With this simple but extremely effective approach, he has paved his way through many milestones in dentistry. Dr. Kapur has over 16 years of experience in handling patients with care and deeply embedded passion for dentistry.
On his journey of providing people with dental therapy, as he terms his treatment, he continues developing and expanding his pool of dental skills with various training and workshops in Oral Surgery, Dental Implants, Wisdom Teeth Extractions, Sedation Dentistry, Pediatric Dentistry, courses on successful Root Canals, bone grafting, IPRF (tissue formation from personal blood), Amalgam free restorations, Implant-supported Dentures, Endodontics (FiCT), Smile Designing, Orthodontics, Preventive Dentistry, Patient Management and many more.
Dr. Vijayant Kapur possesses a keen interest in personality studies and human behavior which is why, along with developing his dental dexterity, he also spent time in behavioral management which has assisted him in treating and interacting with people from various different backgrounds, be it cultures, languages, ages or any disparities.
Although remaining true to the basic fundamentals within dentistry, Dr. Vijayant Kapur has always been a huge advocate of technology and innovation. He continuously promotes and supports the use of the latest techniques, devices, equipment, and is highly apt in the areas of state-of-the-art equipment. Dr. Kapur is adept in making the best of his own resources for conducting his day to day patient care. His approach of putting people and their comfort first is unequaled so when under his counseling, you can rest assured that you are in one of the safest pair of hands.