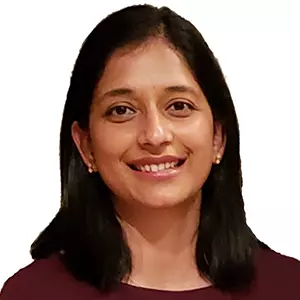 Dr. Sharada Udupa, originally from India is one of the newest dentists to join our Ottawa Downtown Minto Team.
Dr. Sharada Udupa is exceptionally accomplished in her field of expertise and has a bachelor's degree in dental surgery [B.D.S] and master's degree in orthodontics and dentofacial orthopedics [M.D.S] from Bangalore, India.
She practiced in India as an Orthodontist, providing dental care to a diverse population including Children and Adults and people with special care needs.
After moving to Canada, she was accepted into the prestigious 'Doctor Of Dental Surgery' program at the University of Toronto's Faculty of Dentistry from which she graduated as a General dentist, licensed to practice in Ontario.
Dr. Sharada Udupa has a belief and passion for holistic patient orientated care and has a keen interest in continuing clinical education for dental development. Her field of practice includes General dentistry with a focus on fixed and removable orthodontics including Invisalign™ and clear aligners.
Her dedication to excellent general dental care as well as her considerable experience in the field of Orthodontics makes her an invaluable member of our dental family.