Get in touch with us
Do not fill this form out if you're a solicitor.
At Trillium Dental, our dentists and dental hygienists strive to provide the best dental care for families across Ottawa. We believe that an ounce of prevention goes a long way when it comes to oral health, and our goal is to help patients get the beautiful, healthy smile they deserve. We are currently accepting new patients, so if you are looking for a family dental clinic in Ottawa, please don't hesitate to give us a call or book an appointment online!
About Our Family Dental Clinic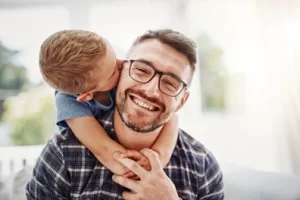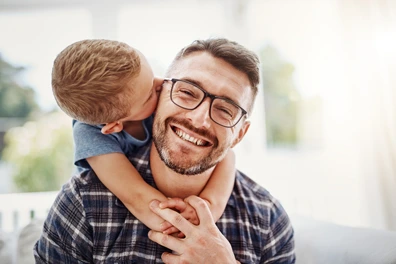 Trillium Dental is a family dental clinic that has been serving the Ottawa community for years. We pride ourselves on the quality of our dental care, and our staff is pleased to offer comprehensive dental services for patients of all ages. Whether you need to find a pediatric dentist for your little one or it's time to schedule your next dental checkup, we're the family dental center you've been looking for.
Part of what sets Trillium Dental apart from other dental offices in Ottawa is that we have a multilingual staff at each of our eight locations, including our dental clinics in Alta Vista, Downtown Ottawa, Kanata, Orléans, Stittsville West, and the Westgate and Bayshore Malls. We're here to serve your needs, and for many patients, that means explaining our dental treatments and procedures in another language so they can make informed decisions about their dental care.
As your family dentist, we do our very best to ensure that you have the best experience possible when you visit us for a teeth cleaning, a cavity filling, a root canal, or any other type of dental procedure. We know that going to the dentist isn't your favorite way to spend your time, so we do everything we can to make sure that you are at ease in the dentist's chair. That's why we keep each of our dental clinics clean and comfortable, with a friendly staff that is waiting to greet you and make you feel right at home.
Request an Appointment Today!
At Trillium Dental, we take a comprehensive approach when assessing our patients' needs, meaning that we address all aspects of oral health rather than just cleaning teeth. Our dentists and dental hygienists are always on the lookout for signs and symptoms of common dental problems, such as tooth cavities and gingivitis, and we communicate with our patients so they know what they can do to improve their oral health. We'll provide professional recommendations about additional dental treatments and/or procedures, and our front desk staff will work with you to work out the logistics of cost and scheduling.
In addition to routine teeth cleanings and dental x-rays, we also offer a range of cosmetic and restorative dental services at each of our dental clinics in Ottawa. The following are our most common dental treatments and procedures:
Benefits Of  Regular Dental Visits
At Trillium Dental, our dentists recommend that patients schedule dental exams at least twice per year. Even patients who brush and floss diligently can benefit from professional teeth cleanings, as any plaque that has calcified into tartar requires special dental tools to remove. Not only that, but we also recommend bi-annual dental appointments to assess the health of your gums and catch any early signs of gum disease. That said, here are some of the main benefits of making regular trips to your family dental center:
Prevent Cavities & Tooth Decay
One of the primary reasons to visit the dentist at least twice per year is to have any bacteria removed from your teeth and along the gum line. The human mouth is full of bacteria, good and bad, which can form into a sticky, white film that settles on your teeth if it isn't removed with regular brushing and flossing. The term for this bacteria is "plaque," and it feeds on the tooth enamel, leading to cavities and tooth decay. When you visit the dentist for regular checkups, your dental hygienist will remove any plaque and tartar (the hard, calcified substance that results from plaque buildup) with a dental scaler. They'll also check for cavities and tooth decay, which appear as a result of bacteria eating away at the tooth enamel and causing infection.
Prevent & Treat Gum Disease
When plaque and tartar build up on the teeth, the bacteria also attacks the surrounding gum tissue, causing the gums to become sensitive, swollen, and red in color. These are some common warning signs of gingivitis, or early-stage periodontal disease. When you visit your family dentist on a regular basis, they will be able to identify the severity of your condition and form a plan to start reversing the damage. At Trillium Dental, we offer a range of gum disease treatments that address each stage of periodontitis, including tooth scaling (part of routine dental exams), gum lasering, gingivectomies, gingival grafts, and crown lengthening procedures. In many cases, our dentists are able to mitigate the damage caused by gingivitis for patients that visit our dental clinic several times per year.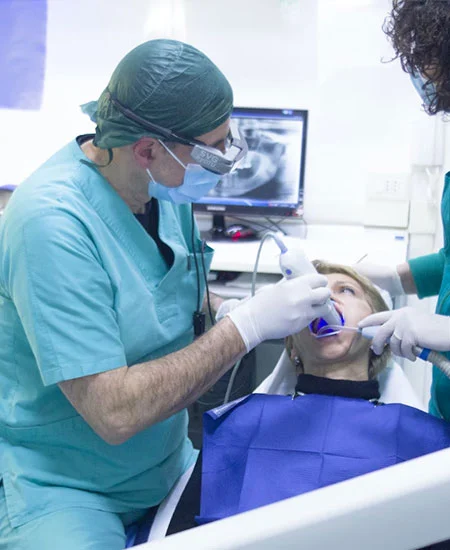 Another main reason to pay regular visits to your family dental center is to get checked for signs of oral cancer. This disease is very serious and can quickly become life-threatening, though the initial symptoms are often very subtle, causing it to go unnoticed until it's too late. As part of your routine dental cleanings, your dentist will examine your teeth, gums, and mouth tissue, as well as feel your neck and face for lumps, sores, and other abnormalities. The sooner oral cancer is discovered, the greater the likelihood is that it can be treated, which is part of the reason why it's so important to visit the dentist at least every six months.
Keep Your Teeth Looking Their Best
Of course, there are plenty of cosmetic benefits of visiting your family dental office as well. When your dental hygienist is cleaning your teeth, they may suggest a
 

cosmetic dental
procedure or orthodontic treatment to improve the aesthetics and functionality of your teeth. If you have a "gummy" smile, for example, your dentist might recommend a gum contouring treatment to remove some of the excess gum tissue that makes your teeth look shorter than they really are. Or, if you have yellow teeth from drinking lots of coffee, wine, or smoking cigarettes, they might provide a recommendation about the best teeth whitening kit to use. In many cases, our dentists advise patients with crooked teeth to invest in orthodontic treatment as well, such as braces or Invisalign.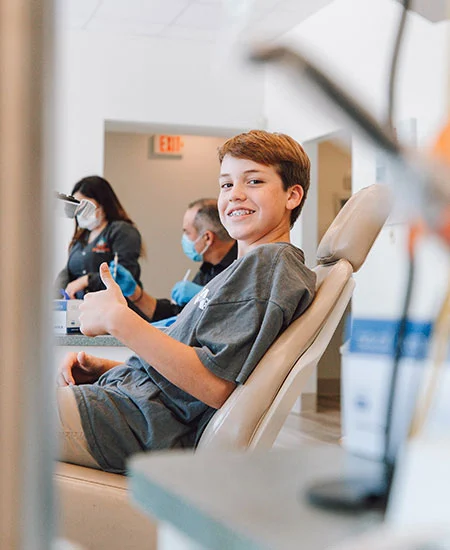 There are many other benefits of visiting the dentist on a regular basis, though they all tie into one common theme: maintaining good health overall. Dental health is just as important as other aspects of your well-being, and it should never be overlooked. If you are due for a dental exam or you are experiencing any dental problems, please don't hesitate to book an appointment at Trillium Dental in Ottawa. We would love to meet you and your family!
Tips To Make Your Dental Visit Stress-Free 
As family dentists, we understand that dental phobias are common, so we do everything we can to make our dental clinic comfortable and stress-free. Whether you are bringing your child in for their first dental appointment or you feel anxious in the dentist's chair, try out these tips to make your next trip to the dentist as relaxing as possible:
Ask About Dental Sedation
If you've tried all the tips listed above and still feel uneasy in the dentist's chair, consider asking your hygienist about sleep dentistry. At Trillium Dental, we offer three types of dental sedation to make your appointment more enjoyable:
IV sedation


Also called intravenous conscious sedation or "sleep dentistry," IV sedation is used for patients who have a severe dental phobia and/or a very low pain tolerance. Unlike general anesthesia, the patient is still conscious during their appointment. However, they will be unable to drive home, so they'll need a friend or family member to accompany them to and from their appointment.

Oral sedation


Oral sedation is similar to IV sedation in the sense that the patient is placed in a deeply relaxed state and remains conscious for the appointment. The only difference is that the sedative is inhaled, rather than administered intravenously. As with IV sedation, they'll need someone to drive them home from the dental clinic.

Nitrous oxide.


Nitrous oxide is a dental sedative that is commonly used for patients who get anxious at the dental office but do not need to be heavily sedated. Also referred to as "laughing gas," nitrous oxide helps to make patients more cheerful and relaxed during their appointment. The effects of nitrous oxide wear off pretty quickly, so the patient does not necessarily need to be driven home by a friend or family member.
Our dentists are experienced in administering all three types of dental sedation, and we would be happy to provide other recommendations if your fear of the dentist prevents you from receiving the oral health care you need to have a beautiful smile. Reach out to us at any time for more tips and advice, or check out our latest blog posts to learn more.
Choose Trillium Dental As Your Trusted Family Dental Clinic
At Trillium Dental, we strive to help patients understand the value of good oral health, and we do everything we can to make visiting the dentist an enjoyable experience that you can look forward to. Our dentists customize treatment plans for each of our patients to ensure that they are receiving the best dental care possible, whether that involves pediatric dentistry, restorative dentistry, periodontics, or a series of cosmetic dental treatments in addition to their regular dental appointments.
When you choose Trillium Dental as your trusted family dental clinic, you can rest assured that you have a team of experienced dental professionals serving you and your loved ones. Our dentists make an effort to get to know each of our patients in order to provide them with the best dental experience possible, no matter what that entails. Whether you're bringing your child in for their first dental appointment, your teenager needs braces, or you want to have your teeth whitened, we've got you covered!
If you are looking for a nearby dental clinic that is clean, comfortable, and family-friendly, consider scheduling an appointment at Trillium Dental in Ottawa. We'd be happy to provide an initial consultation and show you around our dental office while answering all of your questions. Our dentists love meeting new patients, so feel free to drop by anytime.
Ready to get started? Visit one of our nearby dental clinics to meet our staff and take a tour of our dental office, or book an appointment with us online. We look forward to meeting you and fulfilling all of your family's dental needs!